Inspiring Veterans To Get Out And Active
Wounded Warriors Abilities Ranch Was Founded In 2015 By Mike Delancey
Mike Delancey, a Pinellas Park resident who himself was critically injured in a sniper ​attack during military combat in Iraq and has confronted his own life changing injuries.
The Wounded Warriors Abilities Ranch (WWAR) has been built to inspire veterans of all conflicts to get OUT and ACTIVE.  We offer activities for all Military Veterans in need of a supportive and healing environment, to give a new sense of hope, resilience and strength as they move forward in their journey.
Our Non Profit offers a huge range of activities, workshops, clinics and events for all veterans and the adaptive sports community in the Tampa Bay Area .
In 2015 we partnered with the City of Pinellas Park to build WWAR at Lurie Park.
Lurie Park is a purpose built ADA City Park and is home to WWAR . It is a place for Wounded Warriors, Veterans, their families and the whole community to come and enjoy. The Park has been designed to support both the physical and emotional needs of Warriors with fitness and sports at its core.
We offer a wide variety of recreational activities at the Park and is furnished with specialist fitness equipment to build strength in both body and mind.
There are wide trails for hand cycling, walking and running, A pond for fishing , specially designed ADA Work Out stations and a large multi purpose sports court specifically designed for Wheelchair Sports and Events.
A social outdoor space is a key element to the Park, giving  an opportunity and space to reconnect and share experiences while also gaining strength, empowerment and tools to help in recovery and healing so with our partners AFFF and The Rotary Club we builts 2 pavilions to host events including picnic tables, grills.
A new stunning Military themed Childrens playground is the anchor for families and our 2 dog parks allow room for our fur family to have fun too !
"These veterans have sacrificed to keep us free," said Mayor Sandy Bradbury. "It is only right that we show our gratitude to them for those sacrifices and help them get the care and benefits they deserve."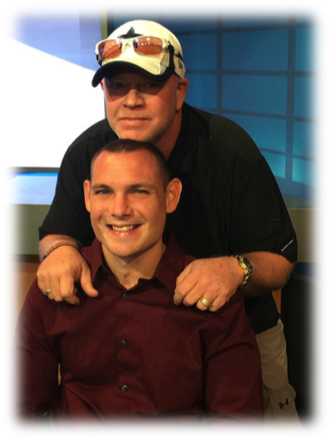 Michael Delancey CEO and his Dad Mike Delancey COO of WWAR
Our Mission & Values
Our mission is to inspire and motivate veterans get OUT and ACTIVE  by providing various recreational activities in a safe and relaxing environment.
Our Core
"Life throws different situations at us . How we react and what we choose to take away from those events is how we define ourselves. We can either dwell on the negative or look for the benefits and lesson it has taught us ."
Corporate Sponsors
If you choose to become a Corporate Sponsor, WWAR will work to ensure that current and future customers know about your company's commitment to the veteran community.
We will also work with you to promote your business and attract new markets. WWAR can attend customer events, staff meetings and attend any presentation requests to support both the corporation and charity.  WWAR will recognize your company in our own presentations, media releases, TV and Radio interviews and through the city's electronic signage for any event sponsorship, and as an event sponsor. WWAR will feature your donation in all promotional materials leading up to any events, including social media, invitations, email announcements, fliers, and any online promotions.
Your company will be listed in all WWAR publications, which will be released before and during the event. In addition VIP areas at both events will be dedicated to your corporation and their guests.
.